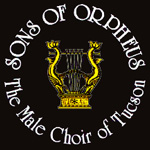 Home
Información en español
Join
Performances
Founder/Director
Our Bios
Gallery
Newsletter
Administration
Support
Engage Orpheus
Repertoire
CDs & Audio
History & Policy
Links
Members Only


Our 2008 Summer Concert Tour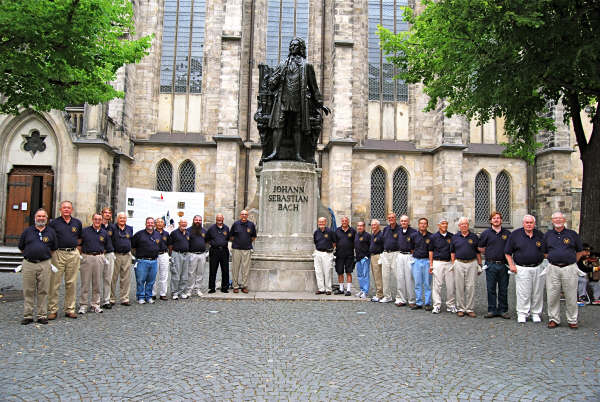 Sons of Orpheus grouped around the great bronze statue of Johann Sebastian Bach which stands in front of the Thomaskirche in Leipzig, Germany. There he is, the great man, with his coat pockets hanging inside out—a humanizing touch meant to convey the fact that Bach, the father of 12 children, was almost always broke! (Travel broadens the mind but also flattens the wallet. So Orpheus has their pockets hanging inside out as well!)

First Annual Leipzig International Choral Festival, Friday, July 18, 2008

Click here to see 5 MB enlargement
Photo by Larry Sayre

YouTube: Sons of Orpheus performs The Exodus Song in St. Peter's Church (Peterskirche)
on July 16, 2008 as part of the Leipzig International Choral Festival
Video courtesy of Casterbridge Tours
Bach on the Bus or Werden wir Leipzig in diesem Jahrtausend erreichen?
(Are we going to get to Leipzig sometime in this century?)
By Grayson Hirst
Sons of Orpheus—The Male Choir of Tucson, is a community-based choral organization. It was founded in 1991 with the aid of a UA College of Fine Arts Faculty Incentive Grant award in order to further promote the vocal and choral leadership of The University of Arizona School of Music. Orpheus presents concerts in Tucson, surrounding communities, statewide, nationally, and internationally.
On the strength of a successful tour of the United Kingdom in the summer of 2002, Sons of Orpheus built an Italian concert tour in 2004. Performance highlights of this, our fifth international concert tour, included participation in the Leipzig International Choral Festival, performing along with choirs from the United States, Great Britain, and Germany. Orpheus is dedicated to providing an ongoing showcase for outstanding student musicians. Two UA School of Music students were awarded Orpheus travel scholarships. Tenor Christopher Hutchinson and bass-baritone Jess Koehn performed with Orpheus as soloists, making it possible for them to experience Europe for the first time.
Upon arrival in Frankfurt on July 15th, we boarded our chartered motor coach and set off for Leipzig, the city of Johann Sebastian Bach. It was in Leipzig that the great man spent the last 27 years of his life as cantor, organist, and choirmaster of the Thomaskirche, as well as three other churches. Orpheus received a special invitation to perform a solo homage to J.S. Bach in the Thomaskirche prior to departing Leipzig on July 18. Leipzig is also the city of Schiller's Ode to Joy and Goethe's Faust. Many Orpheans enjoyed a favorite beverage in Auerbach's Keller where some of the action in Faust takes place. Leipzig is also the city of the "Peaceful Revolution" where the East German regime first began to topple in 1989.
Leipzig boasts that it is "The City of Music," no small claim in a country where great musicians abound and are considered national heroes. Richard Wagner was born there, and Robert and Clara Schumann lived there. Sons of Orpheus also visited the house where Felix Mendelssohn lived and died, and on July 16th, Orpheus paid homage to the composer with a performance in the music salon of the Mendelssohn-Haus. Among other concerts, Orpheus also performed in a grand finale gala closing concert in another of Bach's churches, the magnificent Nikolaikirche, where the Monday Demonstrations first touched off the "Peaceful Revolution."
From Leipzig Orpheus traveled east to Prague, capital city of the Czech Republic, located in the heart of central Europe. Prague is universally declared one of the most beautiful cities in Europe; a city that has seen it all: occupation by the Nazis, "liberation" by the Soviet Army, and the "Velvet Revolution" that finally brought down the communist regime in that country in 1989. The city boasts three world famous opera houses, several first-class concert halls and a spectacularly vibrant music scene. There are museums dedicated to prominent Czech composers Antonín Dvorák and Bedrich Smetana, as well as a museum dedicated to Wolfgang Amadeus Mozart. One of the most beautiful theaters in Europe, the Estates Theatre, is also among the most historic. It was there on October 29, 1787 that Mozart conducted the premiere of his opera Don Giovanni. Two hundred twenty-one years later, many Orpheans attended a performance of Don Giovanni in that very same theatre!
Just across the famous Charles Bridge spanning the Vltava River in Prague's old town with its famous square dominated by the Old Town Hall and the medieval astronomical clock, Pražský Orloj, where one can observe the hourly procession of the twelve apostles. Also situated on the Old Town Square is the Kostel sv. Mikuláse (Church of St. Nicholas), built in 1735, where Orpheus presented a concert.
Bordering the Mirabell Gardens on the grounds of the Universität Mozarteum in Salzburg stands Das Zauberflötenhäuschen (The Magic Flute House), a small wooden structure where Mozart is said to have composed portions of his Die Zauberflöte (The Magic Flute). Variously described as a hut or a gazebo, this structure, which originally stood near the Theater auf der Wieden, a suburban theater in Vienna where Die Zauberflöte received its premiere, was donated to the International Mozart Foundation and moved to Salzburg in 1873. Tailoring our repertoire to fit the various concert tour venues occupied me for many months, but the "Chorus of the Priests" from Mozart's Die Zauberflöte seemed like a necessity for our Orpheus concert in Salzburg/Faistenau on July 22nd.
There is nothing quite like traveling with a small army of choristers and those who support them. On the road with the members of Orpheus there was time for meals together, sightseeing and exploring, making new friends—real friendships were forged over endless social gatherings and pointless conversations—altogether a healthy mix for a hard-working choir. Travel dreams were indeed raised to their upright and locked positions!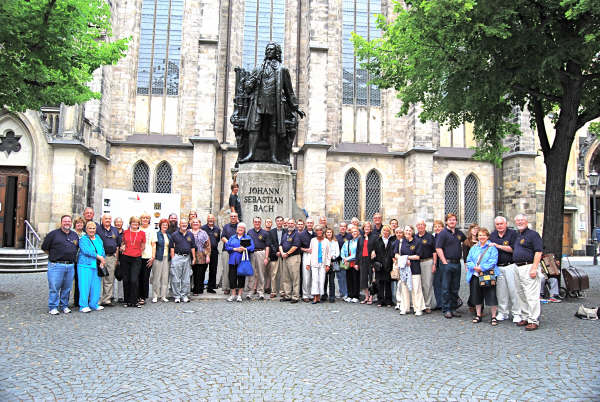 The entire Sons of Orpheus travel party

Click here to see 5 MB enlargement
Photo by Larry Sayre

To send us comments or questions about Sons of Orpheus,
please use your email program to contact us using this address.