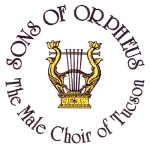 The Voice of Orpheus
---
Volume 4, #3____May 2003
Art: Bob Swaim ____ Editor: Ned Mackey
---
Concert Info
We'll present our annual Spring Concert May 17 at 7:30 p.m. and May 18 at 3:00 p.m., both performances at Pima College's Proscenium Theater, west campus, 2200 W. Anklam Rd. Tickets are $15 for adults, $10 for seniors and students. To order call the theater box office at 206-6986. Tickets may also be purchased at the door or from choir members.

Orpheus as Hunter
Our progenitor tamed the beasts of the forest with a lyre given him by Apollo, but in our Spring Concerts we'll be hunters when we sing choruses from two operas by Karl Maria von Weber. (The horn section of the Tucson Symphony Orchestra will back us for these numbers. So much for stealth.)

Weber was born in 1786 into a musical family. The boy had a congenital hip deformity and couldn't walk until he was four, by which time he was already well along in piano and singing lessons. His father, who had a notion of how grand life must have been for Mozart's father thirty years earlier, promoted his son excessively.

Indeed, young Karl was a prodigy. By the time he was ten he was a virtuoso with several instruments and had composed a comic opera. At eighteen he had his own opera company. In 1817 Weber became director of the Dresden Opera. Four years later his opera Der Freischütz (The Marksman), taken from themes in folk tales and folk music, made Weber famous among the Germans at a time when liberalism was beginning to weaken Prussia's domination of the German Confederation and give rise to a sense of nationalism.

Der Freischütz was the precursor of German Romantic Opera, lifted to its zenith a generation later by Richard Wagner. Wagner admired Weber for his passion, his use of folk themes, and his unification of all the arts in opera. It has been said that without Weber there could not have been a Wagner.

In 1821 came Weber's Euryanthe and another Jägerchor (huntsman's chorus) for us to sing. During a visit to Vienna to supervise rehearsals of Euryanthe, Weber met Beethoven. About the meeting Weber wrote his wife, "He received me with a love which was touching. This rugged, repellent man served me at dinner with the most delicate care."

Ill health stalked Weber throughout his life. He produced and conducted his last opus, Oberon, at Covent Garden in April 1826. He died of tuberculosis just two months later at the age of 39.

Fuguespeak
Another German composer, Ernst Toch, wrote an extraordinary piece called "Geographical Fugue." We'll perform it just as soon as we can get the horn players to leave the stage.

In a fugue, two or more independent themes are sounded together, flowing in and out, trading back and forth to conclude, if everything goes right, at roughly the same time. In this one, however, the baritones want you to know they are supposed to finish a half beat before the other voices. This is only fair because they start early with the immortal words, "Trinidad! and the big Mississippi, and the town Honolulu, and the lake Titicaca."

As the three other voices - first and second tenor, and bass - join the fray with other themes, things get pretty complicated. It was a bear to learn. Those men who have the advantage of perfect pitch suffered just as much as the rest of us because the piece is spoken rather than sung. It's fun to perform. We're sure it will amuse you.

Over the Bounding Main
Sea chanteys are staples for men's choirs. We'll sing three this year: "Whup Jamboree," "The Drummer and the Cook," and "Spanish Ladies." Sea chanteys fall into two categories: work songs that provided a variety of rhythms for various hauling tasks; and leisure songs, songs sung, legs adangle, on the forbitters of the fo'c'slehead in fine weather. These "forbitters" were mainly narratives telling of a voyage or a nautical event. Shore songs, too, particularly drinking songs, were roped in for such leisure-hour singsongs.

Our chanteys are of the second variety. "Spanish Ladies," for example, is a song of the British Royal Navy. It is a narrative describing the passage of the fleet up the English Channel, ticking off landmarks the sailors passed along the way and bringing back memories of charming señoritas of various levels of repute the sailors had encountered in far-off New Spain. (Thanks to Mike Fraser for his salty research.)

From the Bookshelf
In his novel, Redburn, Herman Melville had this to say about sailors and singing:

I soon got used to this singing, for the sailors never touched a rope without it. Sometimes, when no one happened to strike up, and the pulling, whatever it might be, did not seem to be getting forward very well, the mate would say, "Come men, can't any of you sing? Sing now and raise the dead." And then some one of them would begin, and if every man's arms were as much relieved as mine by the song, and he could pull as much better as I did with such a cheering accompaniment, I am sure the song was well worth the breath expended on it. It is a great thing in a sailor to know how to sing well, for he gets a great name by it from the officers, and a good deal of popularity among his shipmates. Some sea captains, before shipping a man, always ask him whether he can sing out at a rope.
Profiling Bill Archibald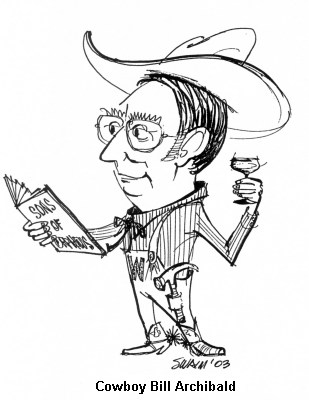 The task master of our setup crew, Bill comes to concerts in tux and leather work gloves, perhaps the same ones he wore during his fence-mending days on his family's 8000-acre ranch in Gillette, Wyoming. Bill was doing chores by the time he was six. "It was kind of primitive, but we did have running water," he says. "Somebody was always telling me to run to the well to fetch water."
Bill went from a one-room elementary schoolhouse and the Campbell County high school, to Tulane University on an honors scholarship. He majored in electrical engineering but he spent lots of time at the Old Absinthe House, the Paddock, the Fountain Lounge, and other such boozy classrooms to listen to music, his first love, one he would have chosen for a career except for an un-manageable streak of practicality.
After two years in New Orleans, Bill returned home to continue his studies in electrical engineering at the University of Wyoming. Upon graduation he fulfilled his ROTC requirement in Washington DC working on classified communications equipment. When his wife, Carolyn, would ask, "How did your day go?" all Bill was ever able to say was "Just fine, dear."
Bill says by the time he had completed his military experience he knew enough to know he needed to know more, so he returned to Laramie to study for a Masters degree.
With his newest diploma and some real experience in hand, he joined Tucson's Burr-Brown engineering firm where he wore many hats during his long career - everything from testing and quality control to managing the international sales division. He retired in 2000 to devote his time to traveling with Carolyn in their motor home, puttering in his workshop, refining his wine palate, and singing with Orpheus.
Bill, always the first to arrive at a concert site, is patient with his klutzy crew. Thanks to him the risers have yet to collapse beneath us, and Grayson has yet to conduct himself off the podium, the one Bill built oversize to accommodate our director's enthusiastic style.
The whole bunch of us thank Bill for his fine voice, his handiness, his friendly demeanor, and his faithful service.
The Wind in our Sale
Somewhere around three o'clock on the morning of this year's rummage sale, the wind chimes on my back patio were surprised into action. I awoke to the realization that I'd spend a second consecutive sale eating dirt in the parking lot of the Hogan School of Real Estate, and I wondered if Orpheus himself could be telling us he's tired of having his name associated with rummage.
A memory from the 2002 rummage sale: John Evans leaning back against the wind out on Grant Road displaying a big poster glued to a one-by-four fitted with a pair of drawer pulls for comfort and security; a tremendous gust ripping the poster from the board and flinging it toward the oncoming traffic; John, hoping not to get his name in the paper, holding the naked remains precisely as he had before the separation; the sign sailing just over the leading cars and out toward I 10 where it could really capture some interest.
It turned out that the wind this year was even worse than last, but we persevered. Our thanks to those who answered the call to donate quality junk. Thanks also to the brave souls who left the warmth and quietude of their cars to shell out over $1300; to Jim and Esther Hogan who provided the space; to Richard Jensen, Vaughn Huff, and Jim and Gerry Campbell who priced the goods; and especially to Mike Fraser who ran the show from start to finish.
Looking for a Few Good Men
Can you sing? Are you willing to have a simple, private audition to prove it? Can you spend two hours Wednesday evenings and an hour and a half Saturday mornings with us learning great music? Can you perform two dozen concerts a year in such wonderful venues as Mission San Xavier del Bac, the Berger Theater of Performing Arts, and the Proscenium Theater? Finally, can you make a concert tour of Italy in the summer of 2004? Preliminary dates look like June 19 though July 7.
The tour is not mandatory, but it's a great vacation! Bring wife, family, all your friends if you want your own cheering section. Group rates are extremely attractive. Expect the cost to be in the $2300 to $2500 range with a first payment of 25% on October 15. Iván Berger has nearly completed arrangements for a half-dozen concerts. We are experienced overseas travelers having sung in Germany, Austria, and Hungary in 2000; and Ireland and the United Kingdom in 2002. We stay in good hotels, travel in comfortable coaches, have plenty of free time, and perform for large and appreciative audiences.
Interested? Think it might be time in your music career to try a good men's choir? You're welcome to sit in on rehearsals, seven o'clock Wednesday evenings at the Tucson Boys Chorus building, 5770 E. Pima. Please call Grayson Hirst at 621 1649 or 327-9087 for more information. Check us out at our website, www.sonsoforpheus.org.
Looking for a Few Good Volunteers
Jean Honeman, the leader of the choir's auxiliary, would like to have a few more names on her list of people who are willing to help in such ways as ushering, selling CDs at concerts, taking phone orders, organizing archives, passing out our cowboy hats, etc. Jean says a few hours a year would be great. You don't have to know one of the singers to volunteer, you just need to like the choir. Please call Jean at 577-5757 or e-mail jgbakken@aol.com
Grayson's Notes on Sir Edward Elgar...
The valedictory quality of Elgar's music (think "Pomp and Circumstance") gives it its power. It is quintessentially English music: lofty, spiritual, poignant, and hopeful - music that reconfirms the British identity and points to a better day. Elgar's music represents what being British is all about!
The Enigma Variations, opus 36, secured Elgar's reputation as a composer of international standing. It remains the most widely performed of all Elgar's works. The ninth variation, "Nimrod," the emotional centerpiece of the work, is arguably one of the best-loved excerpts in the classical repertoire.
Sons of Orpheus presents Elgar's noble melody, set to a text from the Mass for the Dead, "Missa pro Defunctis," in the Roman Missal. In its present form, the Requiem Mass can be traced back to the eighth or ninth century, but its origins go back even farther: One of the tenets of the ancient Jewish faith was that after death the immortal souls of the just went to sleep with their fathers.
Lux ætérna lúceat éis, Dómine,
May light eternal shine upon them, O Lord,
Cum sánctis túis in ætérnum,
In the company of thy saints forever
Quia píus es.
For Thou art merciful.
Réquiem ætérnam dóna éis, Dómine,
Rest eternal grant unto them, O Lord,
Et lux perpétua lúceat éis.
and let light perpetual shine among them.
...and Gustav Holst
Despite the foreign-sounding name, Holst was as English as cricket and ale. He was Elgar's contemporary; both men died in 1934. Elgar made a living through his compositions, but Holst wrote for relaxation. Elgar was attracted to worldly pleasures, but Holst was interested in mysticism and astrology. He even cast horoscopes for his friends. "My little vice," he called his pastime.
Holst started work on The Planets during long weekends at his family's cottage at Thaxted after the outbreak of World War I. Movement No. IV, "Jupiter, the Bringer of Jollity," climaxes in Holst's best-loved melody, the majestic, hymn-like andante maestoso section.
Sir Cecil Spring-Rice, 1859-1918 wrote a text for the andante maestoso, creating the hymn known as "Thaxted." Diana, Princess of Wales, requested the hymn for her wedding. Poignantly, it was sung at her funeral.
On the eve of battle, in the calm before the storm, somewhere between Kuwait City and the Iraq border, British soldiers awaiting the order to launch a massive armored thrust north through the desert sang "Thaxted," one of the greatest of all British national hymns.
I vow to thee, my country,
all earthly things above,
entire and whole and perfect,
the service of my love;
the love that asks no question,
the love that stands the test,
that lays upon the altar
the dearest and the best;
the love that never falters,
the love that pays the price,
the love that makes undaunted
the final sacrifice.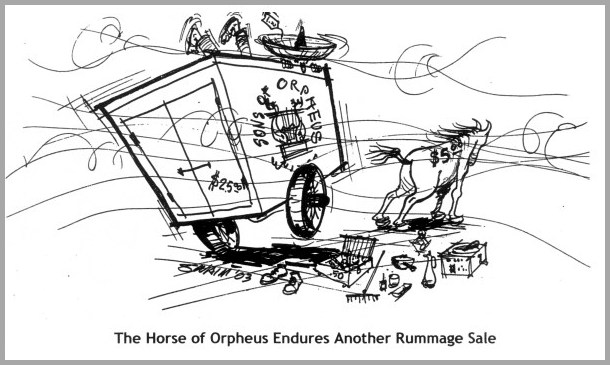 Sons of Orpheus Board of Directors:
Mo Barkan, Jerry Bouwens, Lorraine Drachman, Marshall Fealk, Don Haskell, Jim Kolbe, Ivor Lichterman, Jerry Nathanson, Faye Robinson, Larry Ross, and Judy Strahler.

Programs of Sons of Orpheus are supported in part by grants from the Tucson/Pima Arts Council and the Arizona Commission on the Arts.
---
Read the February 2003 Newsletter
Read the September 2002 Newsletter
---
To send us comments or questions about Sons of Orpheus,
please use your email program to contact us using this address.



updated 05/10/03