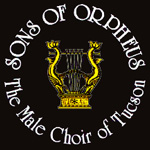 Home
Información en español
Join
Performances
Founder/Director
Our Bios
Gallery
Newsletter
Administration
Support
Engage Orpheus
Repertoire
CDs & Audio
History & Policy
Links
Members Only


Sons of Orpheus—The Male Choir of Tucson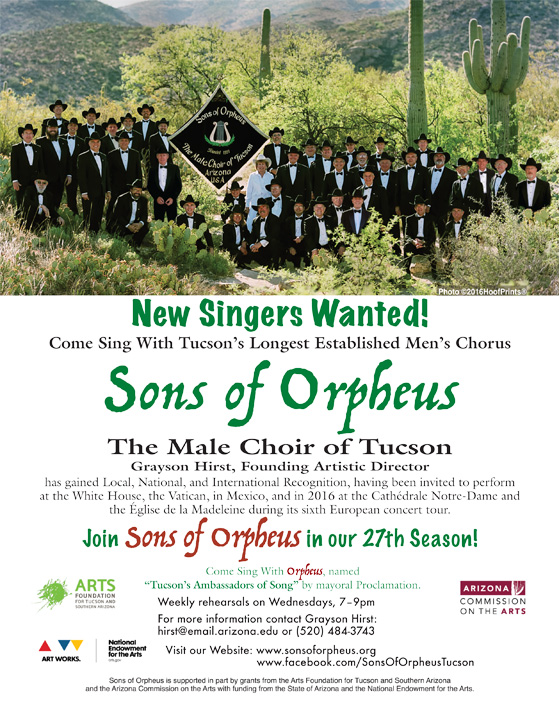 Our Next Engagements
A variety of
Holiday Concerts
November 30 to December 17, 2017
Click here for details!
---
Learn to Read Music!
Mondays at 7:00 P.M.
A free class, open to all who wish to learn how to read music.
Topics will include notes, rhythm, clefs, key signatures, musical notation,
and any questions brought to the class about reading mu-->
The Tucson Boys Chorus Building
5770 E. Pima Street, Tucson AZ 85712 (see map)

Presented in community service by Sons of Orpheus and the Tucson Arizona Boys Chorus
For more information, contact Bruce Mortensen at
520-235-4303 or


View the poster.
(Poster is in pdf format, viewable in Adobe Reader, downloadable here. )
---
Información en español sobre el coro
Information about the choir in Spanish
---
Videos: Click to play
The 3:10 to Yuma with Tenor Jim Hogan
The Anvil Chorus by Giuseppi Verdi

Mass at the Vatican, 2012
photo by Kathleen Schumpert



San Xavier with the Tucson Boys Chorus, 2012, photo by Gary Smyth




Holiday Concert fundraiser for the Tucson Food Bank, with the students of Arizona Schools for the Deaf and the Blind, 2011
photo by Gary Smyth



Chinese New Year Festival with the Tucson Sino Choir, 2013


The Gazebo at Trail Dust Town, 2012
photo by Gary Smyth


Tucson Estates with Del Pueblo Brass Quintet, 2011
photo by Alan McDonald


The White House, 1998


Director Grayson Hirst


Baseball & Patriotic


Cowboy & Western



Christmas & Holiday
Sacred & Secular


Music From
Around the World

The Welsh Eisteddfod
2002


Alta Pusteria, Italy
2004


Leipzig, Germany
2008


Click on pictures to enlarge

See our Gallery for more photos
---
Listen to music from our CDs with the streaming Flash audio player below.
Click on any of the tracks to start the player

or click here to stream the playlist to a music player on your computer instead,
such as Windows Media Player or Apple Quicktime.
You can also listen to individual clips on our CDs & Audio page.

The above player requires Adobe Flash Player Plugin version 7 or higher.
If you do not have Flash installed on your computer, you can download it here.

---

The Sons of Orpheus choir was founded in 1991 by the distinguished American tenor, Grayson Hirst. It is a not-for-profit, non-sectarian, non-affiliated, community-based choral organization comprised of men from all walks of life. Members include professional and amateur musicians, businessmen, retirees, scientists, scholars, students, engineers, teachers, and others.

Sons of Orpheus provides an opportunity for men to sing selections from the rich repertoire written for men's voices. It parallels such other Tucson groups as choruses for boys, girls, women, and mixed voices.

---

Sons of Orpheus outside Mahler Hall, Dobbiaco, Italy
7th Annual Alta Pusteria Choir Festival, June 26, 2004

Photo by Gary Smyth


---

Sons of Orpheus—The Male Choir of Tucson

proclaimed

Tucson's Ambassadors of Song

by Tucson Mayor Robert E. Walkup
June 27, 2008

click to see full proclamation

---

Our mailing address is:
Sons of Orpheus
P.O. Box 31552
Tucson, AZ 85751-1552


Sons of Orpheus is supported in part by grants from the
Arts Foundation for Tucson and Southern Arizona and the Arizona Commission on the Arts
with funding from the State of Arizona and the National Endowment for the Arts.
Visit www.thechoiceisart.org to discover arts programs in your community,
learn about the value of the arts and to support and protect the arts in Arizona.

| | | |
| --- | --- | --- |
| | | |
| | | |

Sons of Orpheus prohibits discrimination on the basis of race, national origin, color, creed, religion,
sex, age, disability, veteran status, sexual orientation, gender identity, or associational preference
regarding choir and board membership, staff, volunteers, and guest musicians.
To send us comments or questions about Sons of Orpheus,
please use your email program to contact us using this address.